When the weather turns a little chilly, bikes and scooters get rugged up too.
The bike-onsies are simply tied over the handlebars and the rider tucks their knees under the cover to keep warm
I particularly like the red/leopard print and mop look.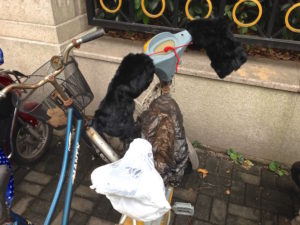 These furry hand warmers were cute too.
In the warmer months the thermals are replaced with cotton to protect from the harsh sun.
But for now, we're all wrapped up against the rain and cold.
What's going on in your hood?